The Lightbringers Church Edition
Help children know who they are in Jesus


Click on the sound icon on the video for sound and on the expand icon for full-screen.

• Brand new action-packed resource with 10 teaching sessions for churches to run in Sunday schools, small groups, or holiday clubs
• Plus brand new children's versions of The Steps To Freedom In Christ ministry component
• Two age groups (5-8 and 9-11)
• Comprehensive hard copy Leader's Guide (276 pages)
• Plus downloadable videos, songs, activity sheets, and PowerPoint presentations
• Use The Lightbringers in your church with as many children as you like for as long as you like without paying any more!

• Parents can use The Lightbringers Family Version at home to reinforce the course in your church
Fun activity sheets...
Leader's Guide...
PowerPoint slides...
"Lightbringers is a fantastic new resource to help children know their identity in Christ and how to view the rest of the world through that lens. It brings together exciting activities, engrossing stories and up-to-date, catchy music which children are sure to love. With practical information and a range of tools for leaders, this resource would be a blessing to any children's group leader who wants to walk with them on their journey of faith."Rachel Bunting, Bishops Officer for Family Ministry, Swansea and Brecon Diocese, UK

"Leading children to a place where they genuinely know God is one of the major needs in the church today.  My own research has shown that by the time most church kids reach their teenage years they still do not know how to pray, how to read their Bible or how to face temptation.  This is the problem that this new curriculum seeks to address. I am a great fan of Mark Griffiths' writings. I have seen his earlier curriculums touch the lives of thousands of kids all over the globe. Now I am excited as I have the opportunity to preview his latest work where he has teamed up with Joanne Foster, a gifted writer and presenter, to produce this new curriculum to help lead children from age 5 to 11, to become disciples of Christ. It has awesome content, is easy to follow and will fill what has been a huge gap in kids ministry up to this time."Ps. David Goodwin, Director of Kidsreach International, UK

"In my parish ministry, "Freedom in Christ" continues to be a powerful tool to help new Christians bear fruit. The key truths and the way they are presented have produced a deep and lasting impact on Christians who were stuck in their growth. The new ministry tool for children called The Lightbringers looks great!  I'm looking forward to it being translated into Spanish so I can start using it with the children of my parish."

Modesto Álvarez Calvo, Catholic Parish priest in Madrid, Spain

"Mark Griffiths is back with another groundbreaking and life-changing project for kids. Along with Jo Foster, they have created a resource that will help 5-to-11-year-olds know who they are in Jesus and also equip them as they grow into young adults in their faith. Throw in a bunch of great new songs, online resources, downloads and teaching videos, and this is a world class resource that you as a family or church need to access.As a father of three, I know how vital and important it is to ensure that our children not only know Jesus as their friend and saviour, but to also grow in their walk with Him and to be fruitful disciples in this busy crazy world we live in. I can't recommend this resource more highly. Go get it!"Simon Parry, Kids Songwriter and Founder of Allstars Kids Club, UK

"This is brilliant stuff. Mark and Jo have done the seeming impossible with this work which offers a tool to bridge the cultural gap between generations, and promises to effectively grow a generation hungry to live and minister in the power of the Holy Spirit. We commend this resource to you, secure in the knowledge that many churches in New Zealand are crying out for this very material."

 Lydia Read, Senior Pastor, Hope Vineyard, Palmerston North, New Zealand

"What a powerful resource to put in the hands of parents and children's workers!  The Lightbringers course enables children to be rooted in crucial foundations of how to live life with Christ to the full. The creation of this course enables children to be equipped along the same journey as adults, but in a way that makes sense to them.  The Lightbringers course is also so flexible that it empowers parents to do it with their children at home, at their own pace.  This is a brilliant resource and an important step forward in equipping multiple generations to walk in freedom and discipleship together."Rachel Turner, Parenting for Faith, UK

"Fantastic material, sensitively and appropriately pitched, so that children and young people will encounter Jesus' power to save and heal. Raising emotionally healthy children is one of, if not the greatest, priority for every parent and every church.  This will help you do it!"Paul Harcourt, National Leader, New Wine England, UK

"The Lightbringers Curriculum is a great resource to help parents and church leaders to bring life and freedom to kids' lives and that is a blessing to any family or Church. It is comprehensive and interactive. Well done team!"

Tammy Tolman, speaker and author, Sydney, Australia

"What a brilliant resource for any church wanting to release a generation to live their lives for Jesus today. Whether you have ones or hundreds of children in your church, Lightbringers will enable them to grow as disciples and continue to be in awe and wonder at the love father God has for them. I am very excited to see the impact this will have with my own children as well as those I work with."

Rick Otto, Head of Kids & Family Ministry for New Wine, UK
Try Before You Buy
The Lightbringers comes in two parts:

1. The 276-page hard copy Leader's Guide which leaders of The Lightbringers will need: contains background information; hints and tips; time plans for each of the ten sessions; games; activities. It is in short absolutely indispensable!

2. The Lightbringers Online Resources: 10 story videos for each age group; 11 songs in MP3 format; 11 lyric videos; 11 activity sheets to print out for each age group; 11 Powerpoint presentations for each age group; other useful items such as parental permission forms and a completion certificate.

Download a sample session

What's covered in each session?
Pricing And Ordering
FIRST, get the hard copy Leader's Guide book from your local Freedom In Christ office, which contains all the info you need for both age groups. Also available from other retailers (ISBN no. 978 1 913082 05 5).

THEN head back here with the code printed in the book to get a 25% reduction on the price of the downloadable resources. (Some of our offices will email the code to you immediately when you purchase the Leader's Guide so that there is no delay).

The total price you will pay for the Leader's Guide and the Online Resources is shown in the final column below (excluding carriage charges and assuming you pay our recommended price for the Leader's Guide).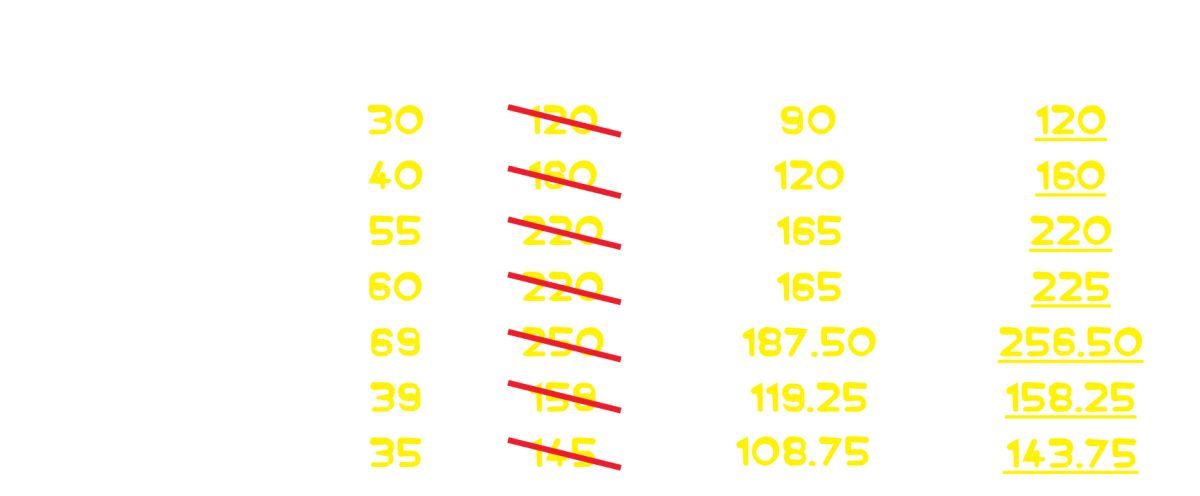 Remember, if you only need one Leader's Guide, you need never pay any more to run the Lightbringers in your church with as many children as you like!

STEP 1 ORDER THE LEADER'S GUIDE LOCALLY

Click on the following links to be taken to your local ordering point:

USA
UK
CANADA

We have listed our main English-speaking countries. Other offices are listed at the bottom of the page. Also available on Amazon.
STEP 2: ORDER THE ONLINE RESOURCES AT A 25% DISCOUNT