We have a growing number of apps to help you take the truths we teach from head to heart. They are extremely well rated by users. Check them out!
Freedom In Christ Course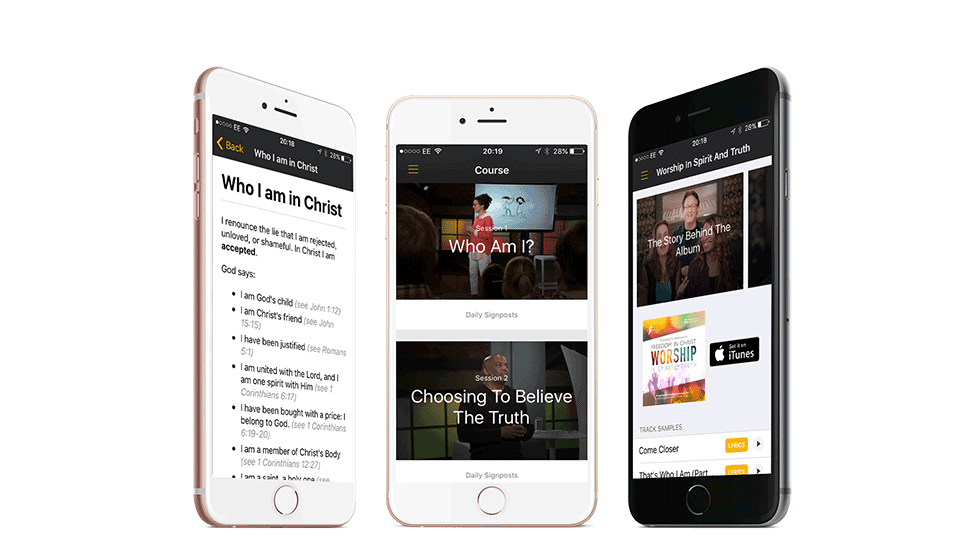 The Freedom In Christ course app will help you really connect with the truth of the freedom Jesus has won for you, so that you might walk on in fruitfulness, into all the things God has planned in advance for you to do!

The App provides the perfect companion to the course, and includes:
• A "Daily Nugget of Truth" to help you reflect on the teaching between sessions.
• "Meet the Presenters" film and Extra Teaching films.
• A Stronghold-Buster-Builder tool.
• The Truth Encounter Lists.
• Introduction to the Worship in Spirit & Truth Album and samples from all of the songs.
• The Freedom In Christ Daily Devotional.


disciple
This app will accompany you and help you get the most out of disciple, our course for the millennial generation.
You'll be able to access the Starter Film for each session in advance and receive timely extra nuggets and points to think about in between sessions.

In addition it is packed with great stuff like extra teaching sessions on:

- Why believe the Bible?
- The gift of sex
- The truth behind the occult
- God, my Father
- Overcoming fear and taking a risk for Jesus
- Introduction to The Steps To Freedom In Christ

Then there's the Stronghold-Buster Builder where you can:

- Input the lies that are holding you back
- Find the liberating truth from God's Word that will set you free
- Set daily reminders to renew your mind

And finally it's loaded with extra goodies such as the three Truth Encounter lists from disciple.

This is not just another app. It's a key part of your journey to discover who God has made you to be and what God has created you to do!


FICM News
The app for those who love the work of Freedom In Christ Ministries International and want to be kept in touch with what's going on. Here's what it gives you:
A daily devotional from Neil Anderson
Every day we'll send you a short devotional from FICM Founder, Neil Anderson. It makes for a perfect start to your day! Our kite logo symbol will appear (if you want it to) to alert you to its arrival.
News from our offices and representatives
You will be able to see news from our offices and representatives from around the world. You can also receive notifications about new articles if you choose to. We guarantee that you will be encouraged as you see what God is doing through Freedom In Christ!
Prayer requests from offices and representatives
If you want us to, we'll alert you to some specific prayer requests from around the world. We would love you to join with us in prayer so that we will see churches around the world fully equipped to make fruitful disciples of Jesus.