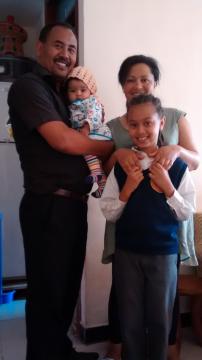 A brief description of your project:
With the availability of the FIC Discipleship Course in the 2 main local languages of Ahamric and Oromo, requests for training are coming in from churches all over Ethiopia.
Why is this needed?:
To meet the many requests for training, our representative Zemen Endale needs a 4-wheel drive plus ministry expenses to travel to the various cities/towns and remote villages with his team of volunteers. Zemen has already sold his old car and using his own funds to pay the initial deposit for the 4-wheel drive. The seller has agreed to instalment payment for the vehicle.
What difference will this make in people's lives?:
There are socio-economic challenges as well as political unrest in Ethiopia. Despite these problems, the churches realise the need for discipleship. The Freedom message brings hope to the church for transforming individuals, churches and communities.
Further information on the project:
Cost:  $42,704 (including $28,095 in government duties/import tax)
        -$22,476 (already paid through sale of his old car and own funds)
        -$  3,000 (new donor gift)
       +$     854 (car title transfer fees)
-------------------
         $ 18,082 needed to finish car purchase (seller is allowing installment payments after delivery in next month or two)
Additional auto fees: Full insurance 1 year $495
Other ministry needs for travel and ministry (Zemen covers his own living costs)
$90 per month auto expenses including ministry petrol, repairs
$675 per month for lodging and food while conducting ministry with his team of volunteers
$900 per month for pastors training fund to help with costs of travel to training events and food during the 3-day trainings. $45 covers the average cost per trainee for a training. Pastors are very poor in Etiopia and get little slary to live on.
---------------------------
Total monthly needs $1665
To Donate: Please click here. For US based donors who require a tax deduction receipt, please go to: https://www.ficm.org/make-donation/. Please select 'one-time donation' as the option. It will then bring you to our US office site to process the payment.
To find out more about the ministry, you can contact:
Zemen Endale, FIC Representative in Ethiopia at zemendale@gmail.com, or,
Howard Ostendorff, FICMI Area Director for Africa at whostendorff@gmail.com
How much money do you need to raise?:
Go live date:
Wednesday, 30 November 2016