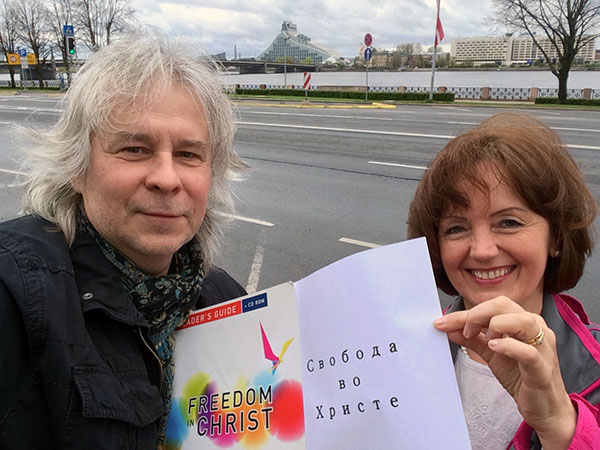 The Freedom In Christ Course has now been translated into over a dozen languages with the same number again in progress. Usually a potential Representative is in place in a particular country before a translation is undertaken but God clearly wanted us to work differently when it comes to Russian.
Olga Nel is a Russian currently living in Northern Ireland where she attended a Freedom In Christ Course which she says changed her life. She was so enthusiastic about it that she approached Freedom In Christ with an offer to translate the course into Russian (she is a trained translator).
Steve Goss, International Director, says, "We prevaricated for some time simply because we usually look to appoint a Representative for a country before we begin a translation but eventually we felt that it would be right to press ahead and see if we could raise the £3,500 necessary to cover the costs of the translation. I had a Skype meeting with Rob Reed, our European Director, and we agreed that he would put a case together to try to begin to raise the funds required. I then made a cup of tea and while I was drinking it the phone rang and it was Nellie Kits, our Dutch Director. In the course of conversation she asked me if we had any plans to translate the course into Russian and I told her that we had literally just agreed to try and raise the funds for that. She then told me that somebody had just given €4,000 - almost exactly what we needed - specifically for a Russian translation!"
Olga is making very good progress and is about two thirds of the way through the translation, ably assisted by a team to check and edit.
She is pictured with Juris Tuns, our Latvian Representative and a Russian speaker, in Riga, Latvia, recently.
Steve Goss says, "We are now looking forward to finding out who God has in mind to lead Freedom In Christ Ministries in Russia and the Russian speaking world."