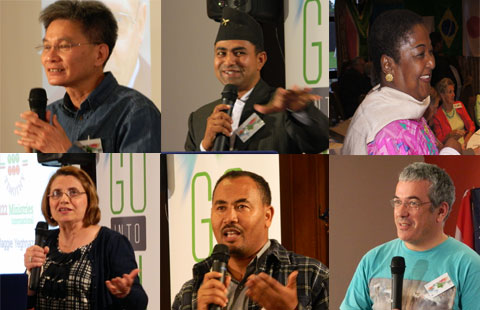 We have a problem. A good problem but nevertheless a problem. Freedom In Christ has been expanding throughout the world at breakneck pace. Just a few years ago we had Representatives in fewer than 10 countries. Now it's over 30 with another dozen or so in progress. Here are just a few highlights of what's going on:
The largest revival in the world right now is in China. The FIC course is being used to train leaders in the underground church and is being translated into both Simplified Chinese and Traditional Chinese.
The second largest revival in the world is in Iran where new Christians are forbidden to meet together. This month the FIC course is being filmed in Farsi (the language of Iran) and will be beamed into the country by satellite so that new Christians will be able to get good biblical teaching.
South Korea is a country that has seen astonishing revival and was reclassified by the United Nations from a Buddhist country to a Christian one. Even here where the church is apparently so strong, the need for the FIC course is apparent and a group of Koreans have embarked on a two-year project to translate it and to establish FIC in Korea.
The translation of the FIC course into Sinhalese, the main language of Sri Lanka, has just been completed. A Tamil translation is just beginning in India and a Nepalese translation is underway In Nepal.
A generation ago there were no known evangelical Christians in Albania. The Albanian translation of the FIC course has just been published and is being enthusiastically used by churches in the country.
The course has been launched in Hungary, Romania and Latvia and is being extremely well received.
Every two years we try to bring all our international Representatives together in one place for crucial equipping and fellowship. In 2012 we brought them to the UK and funded the cost of that largely from our own FICM family. People in the pictures above represent Malaysia, Ethiopia, Liberia, Iran, Nepal and Portugal.
This year the meeting will be in Atlanta, USA, at the end of June and, even though we have already raised ourselves more money than last time, there is still a significant shortfall because there are so many more Representatives now.
The total funds required are around $34,000. $22,000 of that has already been raised from own resources around the world but we are still short of $12,000 (around £7,500) and we have a number of people anxiously waiting to see if they can apply for visas and book airfares so we need to act quickly.
Can you help? Any contribution you can make before our deadline of April 13 would be incredibly helpful to us. Please make your contribution here. Thank you!