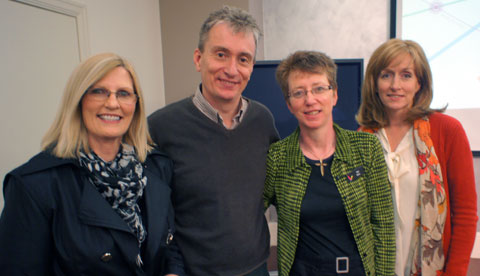 Because of copyright issues, the English version of the best-selling Freedom In Christ Discipleship Course has not been able to be sold outside the UK - until now. The way has recently opened for it to be sold throughout the world just in time for Steve & Zoe Goss' visit to Australia. They are pictured earlier today with Gail Forder, FIC representative for Perth (left) and Carolyn Jackson (right), a UK team member who has been living in Melbourne for the last 18 months and working alongside Gail.

Steve & Zoe have been in Melbourne over the last few days at the invitation of Rob & Christie Buckingham, senior pastors at Bayside Church, which Carolyn, and her husband Jonny, attend. Steve spoke at 3 services (above) and a youth event at which 5 young people gave their lives to Jesus.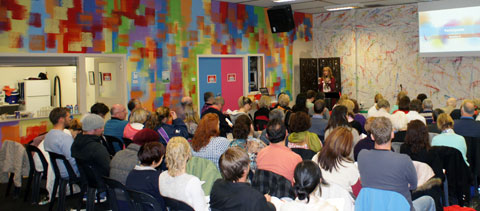 Pictured left (third down) is a Helping Others Find Freedom In Christ training day for leaders in the church led by Carolyn, Zoe and Steve. Steve said, "The enthusiasm we have encountered for FIC here at Bayside is astonishing. There are so many testimonies already. It's really exciting to think what God is going to do here and throughout the country." A meeting for pastors and leaders was held earlier today at which great enthusiasm was expressed for FIC's discipleship materials.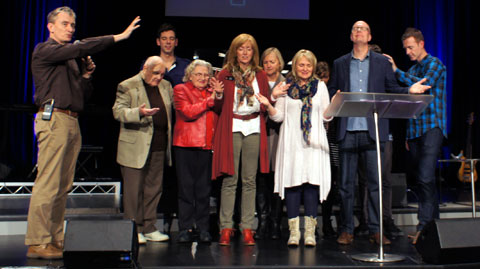 Even more exciting, the message is already spreading out from Australia. Carolyn, Rob and Christie are on their way to Bali, Indonesia, to take the message of Freedom in Christ to the church there in events this coming week and also to a prison where Western prisoners on death row are held. Pictured above is Steve praying for them together with leaders from the church.
Christie Buckingham took the opportunity to present Jonny & Carolyn with a bouquet of flowers to thank them for all they have done to get the church started with FIC during the time they have been in Australia.
Zoe Goss said, "This has been an amazing time. It felt like we hit the ground running and that God is going to open up significant opportunities in Australia. We have been so aware of the prayer backing that has made this all possible."