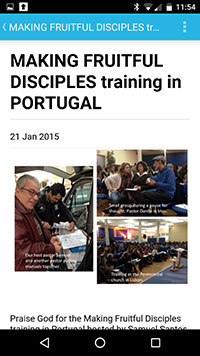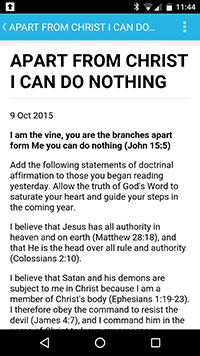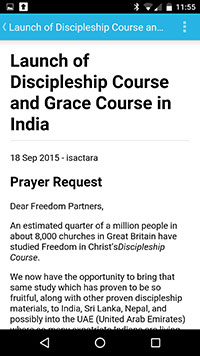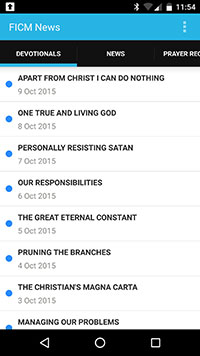 You can now keep in touch with the work of Freedom In Christ Ministries International around the world direct from your phone or tablet.
The FICMI News app is now available for both Apple and Android devices. Here's what it gives you:
A daily devotional from Neil Anderson
Every day we'll send you a short devotional from FICM Founder, Neil Anderson. It makes for a perfect start to your day! Our kite logo symbol will appear (if you want it to) to alert you to its arrival.
News from our offices and representatives
You will be able to see news from our offices and representatives from around the world. You can also receive notifications about new articles if you choose to. We guarantee that you will be encouraged as you see what God is doing through Freedom In Christ!
Prayer requests from offices and representatives
If you want us to, we'll alert you to some specific prayer requests from around the world. We would love you to join with us in prayer so that we will see churches around the world fully equipped to make fruitful disciples of Jesus.
Download it now!
You can download the app at your app store - search for "FICM News" - or click on the links below:
How to use it
When you open the app, it will immediately download Daily Devotionals for the last month (and will then download a new one each day).
If you click on "news" or "prayer requests" it will ask you to enter your log in details for our international website, www.ficminternational.org. You only have to do this once.
If you have not already registered on the website, you can do it here.